OPPO
Video Yearbook

---
OPPO launched a new smartphone model "Reno6" in June 2021, with a major improvement in filming cinematic level portrait videos.

To highlight this feature and introduce it to our main target audience - college students, we proposed the concept of "Video Yearbook". Co-creating with 129 graduates, we made it a trend during the 2021 graduation season.

︎This film was shot on OPPO Reno6 Pro+.
Social Activation
We encouraged the college students to celebrate their once-in-a-lifetime graduation with portrait videos by inviting the brand ambassador, Zhang Zifeng, to join in and kick start. After that, thousands of graduates followed, sharing their videos online.

Results
750+ Million Campaign Views

---
240K+ Discussions

---
13K+ Original Video Yearbooks Shared on Social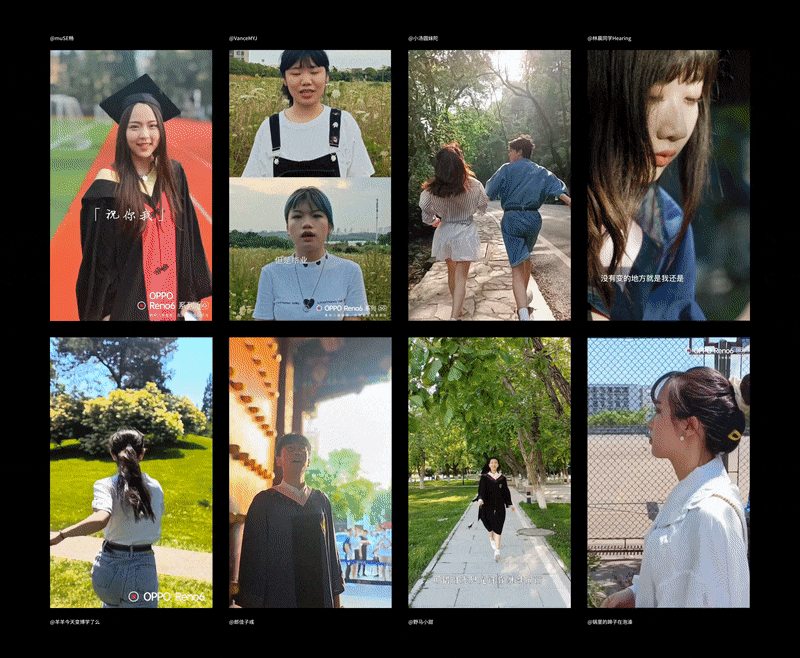 ---
Credits

Fred & Farid
2021

---
Role

Art Direction



---
Collaborators

Creative Direction: Huang Feng, João Leal Pereira
Copywriting: Cao Wen
Agency Supervisor: Quinn Jiang, Jenny Wei
Agency Producer: Charles Renard, Caroline Wei

Director: Ma Siyuan
DOP: An Zheng